Topjoy Buttefly E701 (E-Reader Review)
The TopJoy Butterfly: Pocket-Sized True Color DES Screen E-Reader is an e-reader created by the Chinese manufacturer Topjoy.
It features a Display Electronic Slurry (DES) screen, which means that it has a richer color display.
I got the 7.8 PRO version as a Kickstarter backer, which has 64 GB storage. It was shipped in late 2022. I haven't really had much of a chance to play around with it until now.
I will review this device's screen and overall experience.
I also explain how to transfer existing books from your computer onto the e-reader.
Reading Experience #
The E701 screen uses 300 DPI when in monochrome mode. For color mode, the display is only 150 DPI.
The text is much sharper when you turn on monochrome mode. It's better than physical books. The color mode is fairly vibrant and not as garish as OLED screens. I do not own another color e-reader, so I can only make comparisons with my laptop and phone.
Backlight #
The Topjoy has a backlight for reading in the dark. You can adjust the brightness on the fly, either by swiping down the top drawer, or by swiping up the bottom Progress toolbar.
When the backlight is turned off, the screen is grey and dark compared to typical loose-leaf paper:

The backlight is needed for the E701 to equal the brightness of regular paper. I have mine set at level 3, which is around 15% brightness.
Color screen #
To test the color display, I used several comics from Storybundle. Storybundle offers both EPUB and PDF versions of their deals, and all files are DRM-free so I can load them onto my e-reader.
Here is a comparison of a comic page on my computer (left) vs. the same page on the E701 (right):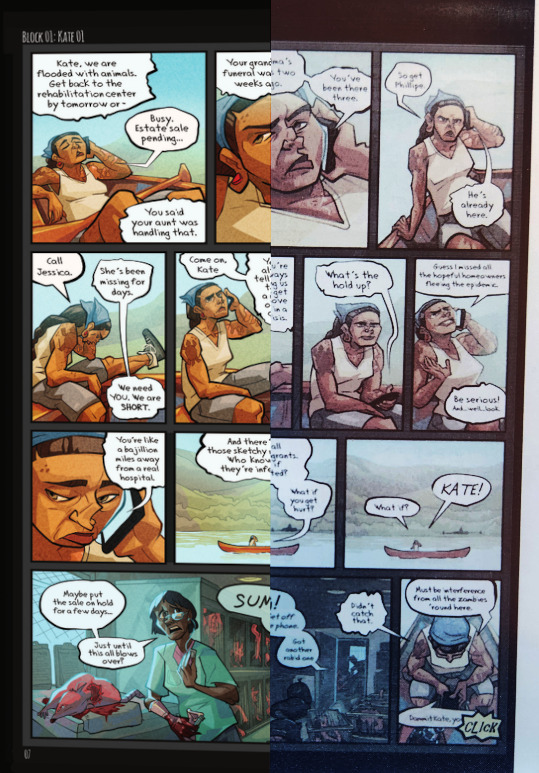 Source: Umbagog by Fable Siegel
The E701 display looks like watercolor, making the oranges more muted. It resembles newspaper, more solid and less saturated.
When you flip through pages, there are some "ghost" artifacts, where outlines from the previous page faintly appear on the current page. This is more noticable for black and very dark pages.
I found the comics display to be hit and miss. Dialogue-heavy comics are difficult to read, and there's no zoom function in the default Reader app, so you might have to download a 3rd-party app. Stories with large dialogue bubbles are fine.
Default Reader #
The default Reader app is servicable. You can always install other apps if needed, but that is outside the scope of this review.
On the left hand navigation, there is a Reader option. Tap on it to access your library.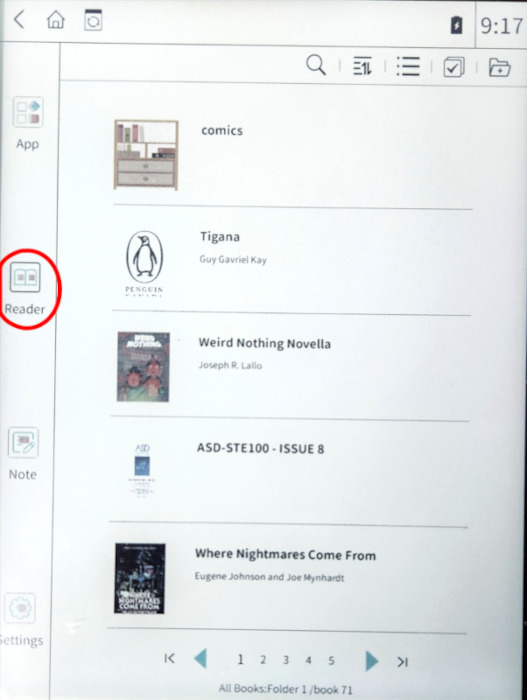 Library Organization #
You can create bookshelves for various collections.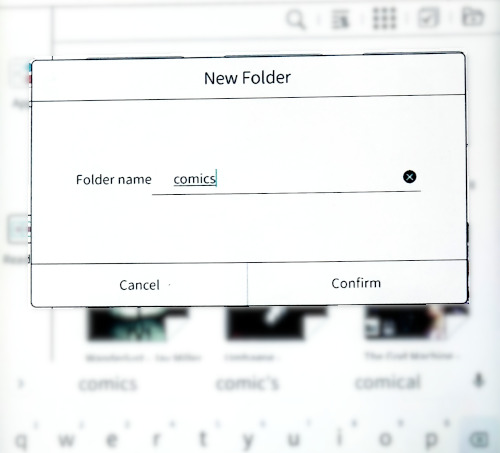 Despite the fact that it says "folder," the newly created folder uses a bookshelf icon.
Books do not always belong to one genre or category, so it would be nice if you could assign a book to several shelves, like on Goodreads. However, the Reader does not let you place a book into multiple bookshelves.
I like to make backups, and I want to segment my comics, magazines, novels, and textbooks, so I find the filesystem mysterious. I talk more about the filesystem here.
If you keep your book management within the E701 only, it's probably okay. Most people stick to Kindle/Google Books/reading apps, and occasionally download a free book from the internet.
⚠ Issue with bookshelves:
When you sort the library to show items By Name, bookshelves disappear from the list. They are still searchable if you use the search feature. The bookshelves reappear when you set the sort to By update time instead of By Name.
Acceptable Formats #
To read .cbz files, you need an app like CDisplayEx or KOReader. Since I don't want to download another app, this section will only cover the default Reader.
Recommendation: use PDFs for comics and graphic novels. EPUB images tend to be improperly formatted and scale terribly in the e-reader.
For example, this EPUB file has too much whitespace: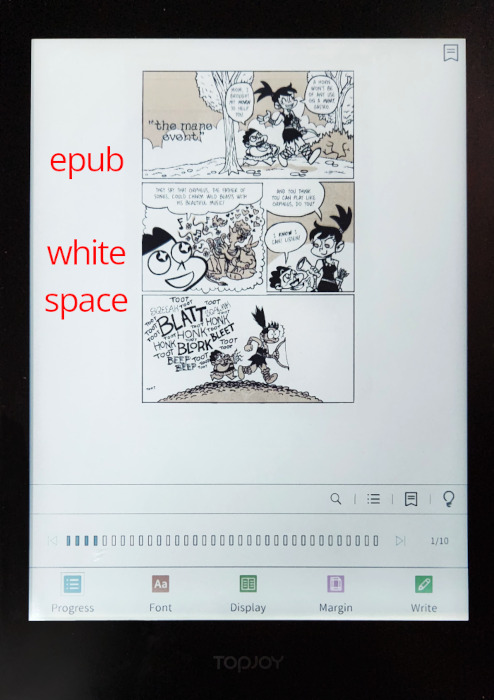 Source: The 12 Labours of Gastrophobia by Daisy Finch McGuire
By swiping up from the bottom of the screen, the Progress Toolbar appears. You can adjust the display font and margins, or activate Write mode and scribble on the book.
The magnifying glass icon is actually for search, not zoom in.
How to activate Google Services #
The E701 is not automatically certified for Google services. It requires an additional step before you can download apps from Google Play.
After logging into your Google account within the e-reader, go to Settings > Preferences and scroll down to the bottom.
Tap on the entry GSF ID - Click here to bind the device…

Go through the prompts, and you will be taken to the Device registration page.
The E701 device ID is automatically copied in the clipboard.

Paste the ID into the Google Services Framework Android ID textbox.
Check the Capatcha and tap the Register button.
Your GSF ID appears underneath the Registered Android IDs section, and Google services are activated for your e-reader.
Look and Feel #
Weight-wise, the E701 feels a bit heavy. The company specifications say the E701 is 315 grams.
My E701 does have slight screen defects, where bright spots appear in the lower left corner. I am lucky that they are not too noticable, but screen defects are a common complaint from Kickstarter backers.
External Case #
The porftolio case which comes with the E701 has a magnetic cover, so the e-reader automatically sleeps and awakens when you cover and uncover it.
The case is a barrier to the charging port, and my USB-C connector sits loose in the port and is easily knocked off while moving.
The default charger fits through the case just fine, because the hole is designed for it.
Basically, if your USB-C connector plug is too wide, the case hinders it.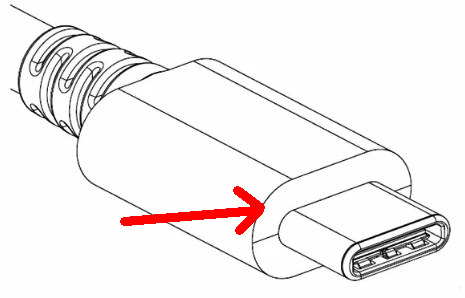 Diagram source: Распиновка USB Type C кабеля по цветам
Microphone and Audio #
Apparently, the E701 has a microphone. You can connect Bluetooth headphones, but I have not tested this, nor do I care to. I don't listen to audiobooks and I'd rather record audio with an actual microphone.
I might update this section in the future when I have time to test.
Battery Life #
With the E701 turned off for about 4 months, the battery drained from 100% to around 65% (eyeball estimate).
I turned off the percentage display because the screen flickers too much when the number changes.
With wi-fi turned on, the batterly life is very poor. It is recommended to turn off wi-fi and Bluetooth when you don't need it.
Build Quality #
I have heard of people who received defective E701s, where the screen and the adhesive are already peeling off the chassis.
Luckily mine is fine, and has a decent build quality for the price. So far, nothing is peeling apart within the 4 months that I've owned the device. Also, I live in a temperate climate that is balanced between four seasons, and there's very little extremes in terms of humidity and temperature.
I don't think the E701 is waterproof, and I'm not going to test this.
Smudging and Artifacts #
There are Reddit reviews about DES screen degradation happening within 4 months of usage.
After a week of heavy usage, the battery indicator became spottier: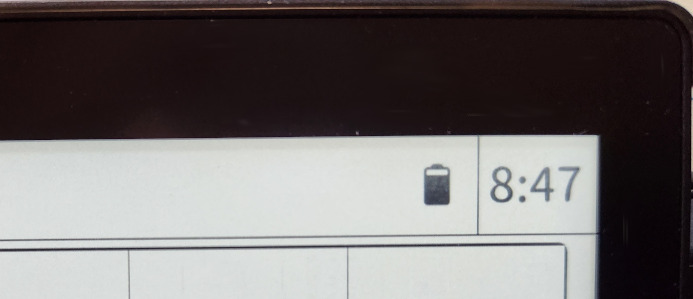 When I first got my E701, the battery indicator was entirely black and solid. Now, the display is fading along the edges. While reading a book, the text nearest the bottom edge of the screen is lighter. It's still readable but it can be distracting.
I suspect that my device will eventually degrade too. A smudge in the corner developed into a permanent grey tint: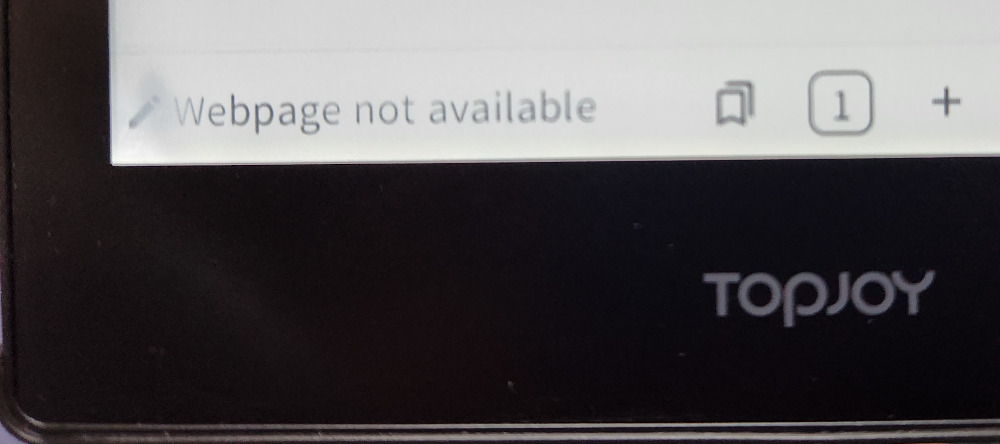 Where the smudge is located, the ghost of the icon lingers longer than other ghost artifacts.
I cannot speak to the long-term durability of the E701. When the time comes, I will update this post about wear and tear and whether it looks like the Reddit post.
Conflict of Interest #
There is a paradox with color e-ink. When you offer a color e-ink display, people will browse through more intensive media like comics, images, and advertisements. The screen degrades faster with higher refresh rates.
Devices like the Kindle product line can last for 10 years, but they are limited to monochrome display, they can't browse the internet, and they don't have writing capabilities on most products. The refresh rate is forced to be very low.
I suspect with the E701, the same principles apply. If you limit yourself to slow media and monochrome mode, the screen will degrade slowly like a Kindle. If you browse App stores frequently in color mode, or doodle a lot, it will degrade in 4 months.
From a conceptual standpoint, color e-ink is a contradiction and has trouble fulfilling the demands of the average consumer. It's possible that this invention leads to more e-waste.
Real ink and paper still has a leg up on vibrant colors and preventing eyestrain.
Note-taking #
For note-taking, the out-of-the-box stylus is usable.
The E701 differentiates between skin contact and stylus input, using the same technology as low-end Wacom tablets. This means that Wacom styluses will work with the E701.
Strokes are placed slightly south from the tip by a millimeter. For example: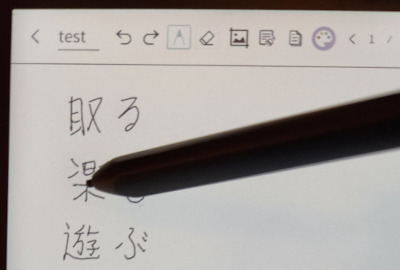 The diagonal stroke begins slightly offset from the tip instead of under the tip. I also have trouble closing boxes and connecting strokes on the same vertex.
The accuracy is about what I'd expect for an e-reader. I wish it was more precise, but I can take notes and underline alright.
Filesystem #
The Reader app uses a virtual filesystem for its bookshelves. Despite being labeled "folders," the bookshelves are not actual folders which you can access from a computer.
A virtual filesystem has benefits. For example, on Goodreads, you can assign a book into multiple bookshelves, because digital media is not actually limited to one bookshelf. Each bookshelf is akin to a virtual folder. However, the E701 default Reader does not allow you to assign books to multiple bookshelves, so I don't see the purpose of the virtual filesystem, and much of the benefits are lost.
If you have bookshelves with books, and you move the files around, the E701 Reader virtual filesystem goes out of sync with the actual files. The books will be considered non-existent on the E701, and you'll have to remove ghost entries from the E701.
As long as you don't move or rename the E701 files using your computer, you should be okay. I wish I can export my bookshelves, categories and lists.
How to sideload ebooks #
You can transfer any compatible file into the E701, a process sometimes referred to as "sideloading."
Prerequisite:
A USB-C cable that allows data transfer.

The default USB-B cable that comes with your E701 is a charging cable only. It cannot transfer data.
I use my smartphone's USB-C cable.
Once the E701 is connected, it appears mounted in your file explorer: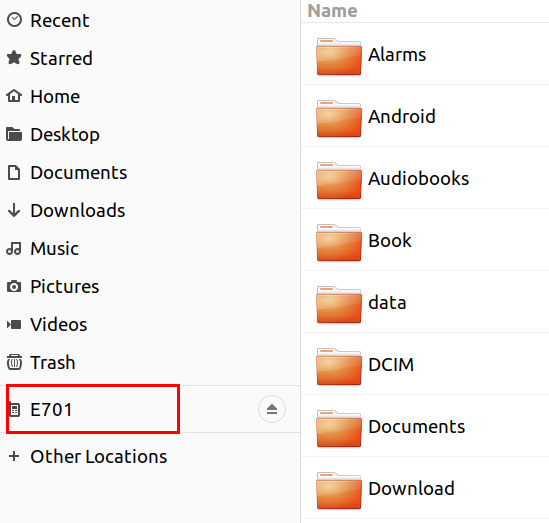 Click on the E701 Internal Storage until you see a list of folders.
Copy your files into either the /Book or /Downloads folder.

Do not create any child folders within these directories.
I prefer to dump all of my EPUBs and PDFs into /Book.
After the files are copied into the folder, they appear in the Reader library.
Topjoy Company Values #
The Topjoy company story indicates they are primarily a manufacturing and R&D company, not a B2C company. I am okay with giving money to the manufacturing team instead of buying from dropshippers.
Many Kickstarter comments mention that the shipping logistics have been bungled for many backers who never received their devices. I am fairly lucky that my device arrived at all.
The company's front cannot handle overseas customers, and in general, consumer-facing services are not part of their mission statement.
Personal Values #
Why would I throw money at an unknown product? There's a couple reasons:
To stick a middle finger at certain companies.
To support the development of DES technology.
I invested into the Kickstarter because the e-reader sits outside of the Amazon Kindle and Google monopolies. Google services is opt-in instead of forced upon you, which can be an advantage. I still use Google apps, but I want to avoid buying into walled-gardens as much as possible. Even the Kobo has an app store, and I don't want to register for another account to have my data collected.
However, using alternative technology means that you should be somewhat techy: comfortable with downloading open-source or lesser-known software.
As usual, it's a sacrifice between convenience, novelty, and control.
Closing Thoughts #
I would not recommend this product to the general consumer. Currently, DES technology is still unstable and has questionable longevity until further advancements are made. Like most crowd-funded campaigns, Topjoy raises money for R&D.
If you want a reliable product with customer service, stick to consumer brands like Kobo, Amazon, Boox or reMarkable. These companies also offer cloud storage, which is almost considered essential nowadays.
As for the product itself, the DES e-ink screen is good for reading black-and-white media, such as mangas. The color comics look decent, but ghost artifacts can be distracting. Since I mostly want to read text and other slow media, the color display is just a bonus.
The Topjoy Butterfly is available on Alibaba, but I don't think it's particularly worth it until the DES screen defects are fixed.
Despite the flaws of early-grade technology, I hope to make my E701 last for a long while.
🎥 Video References